01603 721590
Page Generated:
2 Oct, 2022 16:23:35
Log Store 139 - T and G Walls, Pressure Treated Decking Floor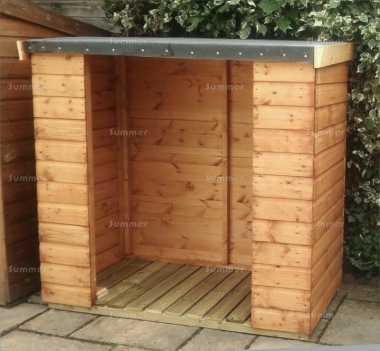 Summary:
These great value log stores are available 4', 5' or 6' wide (1.2m, 1.5m or 1.8m). The depth is 2'6" (0.76m). Features include strong planed framework with shiplap cladding and a chunky pressure treated decking floor. A tongued and grooved roof with heavy duty roofing felt is also included as standard. An external paint treatment in a choice of colours is available as an optional extra.
Prices fixed until Wednesday 5th October.
The prices INCLUDE DELIVERY and FREE INSTALLATION. Local baselaying services are also available in many postcodes.
| Size | Deal Shiplap | Coloured external paint finish | Eco-grid base, 200 tonnes per m2, fully paved | Eco-paving base, fully paved |
| --- | --- | --- | --- | --- |
| 2'6" x 3'11" | £597 | +£329 | £56 | £76 |
| 2'6" x 4'11" | £625 | +£380 | £62 | £76 |
| 2'6" x 5'11" | £653 | +£456 | £62 | £97 |
Specifications
Free same day installation
Individually made to order
All timber used in the construction of this shed originates from sustainable forests
Scandinavian redwood and whitewood
12mm deal tongued and grooved shiplap cladding (finished size after machining)
These sheds include immersion treatment in light brown preservative as standard
Windows not available
Strong ex 2" x 2" planed framework
Pressure treated 2" x 2" floor joists (lifetime preservative treatment). Bearers not required
12mm deal tongued and grooved roof boards (finished size after machining)
18mm pressure treated decking floor boards (lifetime preservative treatment)
Black mineral felted roof
Height at the rear approximately 4'11" (1500mm)
Height at the front approximately 4'7" (1400mm)
These small log stores are easy to deliver if access is restricted - all sections will pass through a normal single door
FREE SAME DAY INSTALLATION - THE BENEFITS: Our free in house installation service is not just convenient, it is also your assurance of a better quality garden shed. This is because any building which includes free installation is invariably better made using quality components. Over time regular feedback from fitters ensures that design faults and weaknesses have been rectified. Same day installation is convenient for you and cost effective because it saves travelling costs. The fitters will deliver your garden shed and then install it, all at the same time. Others send sub-contract fitters separately, often from far away and often a week or two after the delivery. Waiting for the fitter can be very frustrating. Sub-contract fitting is also much more expensive because of the travelling costs. The fitting service does not include base preparation. A flat and level base is required, which can be made using concrete, paving slabs, pressure treated timber or plastic. In many areas we offer a base laying service as an option. We also offer heavy duty plastic base kits in all areas.
SCANDINAVIAN REDWOOD AND SCANDINAVIAN WHITEWOOD: Manufactured from either Scandinavian Redwood or Scandinavian Whitewood, both of which are grown in the well managed forests of Scandinavia and the coldest parts of Northern Europe. The cold climate ensures slow growth. The growth rings are much closer together than faster growing trees from warmer climates. As a result the timber is heavy and durable with a close grain pattern. The wood is seasoned and kiln dried to achieve the correct moisture content before it is machined. Scandinavian Redwood and Whitewood are so similar in performance and appearance that it is difficult to tell the difference. Both are classified as slightly durable and treatment is required for outside use. The forests of Scandinavia and Northern Europe have been responsibly managed on a sustainable basis for centuries so Scandinavian Redwood and Scandinavian Whitewood is an enviromentally friendly choice.
PLANED SHIPLAP CLADDING: These garden sheds feature smooth planed fully interlocking tongued and grooved shiplap wall cladding. This design ensures that rainwater drains faster and the timber dries quicker, which ensures a longer life for your garden shed. Our shiplap is fully tongued and grooved which is stronger than the half lap shiplap or rebated shiplap used by some others.
HEAVY DUTY FRAMING: These heavy duty garden sheds feature exceptionally strong framing, which ensures a more robust and durable building. Framing timber is normally supplied in standard timber sizes. The nominal size is the size before machining. The finished size after planing is normally around 5mm smaller. Framing of at least 50x25mm or 38x38mm nominal thickness is recommended for smaller garden sheds up to 6'x8'. Framing of at least 50x38m nominal thickness is recommended for larger garden sheds up to 8'x10'. Framing of 2"x2" or 50x50mm nominal thickness or larger is recommended for the largest garden sheds.
SIZES - DEPTH AND WIDTH: The sizes are listed alongside the price. The first dimension listed is the depth and the second dimension is the width. The depth refers to the sloping wall. The sizes listed are the external wall sizes. These sizes do not include the roof overhang. Many other suppliers quote the overall roof size which is much larger.
Options
High quality external paint system offered in a choice of colours - Colours are only as accurate as reproductive techniques allow.
Recycled plastic base kits
RECYCLED PLASTIC BASE KITS: Our durable eco-grid and eco-paving base kits are a practical and affordable alternative to slabs or concrete. Lightweight and easy to install within a few minutes, these recycled polypropylene pavers simply click together with no fixings needed. The interlocking design helps to spread weight and ensures greater rigidity. Weed membranes are not needed below a timber floor. The self draining design prolongs the life of a timber floor. Unlike paving or concrete our plastic bases are fully relocatable. The base is normally at least 2" or 50mm larger than your building. Where space permits the base is normally laid full size but if required in a tight location our plastic pavers can be cut. Fast delivery within 3-5 days ensures that you can start work quickly.
ECO-GRID BASE KITS: Eco-grids are recommended if the sub-base is soil, sand or pea shingle but not on hard surfaces such as concrete, because the underside is not flat. Integral pegs on the underside help to level the base grids more easily in soil or sand or shingle. Our eco-grid plastic bases can support up to 200 tonnes per square metre. We offer exactly the same eco-grids as driveways and carparks. Gravel or shingle infill is not required below a timber floor. Whatever you store in your building, our eco-grids will support the weight easily. Each eco-grid is 472mm x 472mm and 40mm thick with an immensely strong 60x60mm hexagonal cell structure. Extensive preparation is not normally required - just level the soil and lay the pavers directly on soil or on a thin layer of sand or pea shingle. Any exposed edges around the base can be left unfilled or filled with gravel or shingle.
ECO-PAVING BASE KITS: Eco-paving is recommended if the sub-base is a hard surface such as concrete or paving slabs, because the pavers feature a flat and level underside. Our eco-paving is less brittle than concrete paving slabs, with a strong supporting structure. The surface looks and feels similar to pressed concrete slabs, with a slightly textured finish. Each eco-paver is 385mm x 385mm and 40mm thick. The pavers are quickly and easily easily laid over an existing hard surface.
Delivery
DELIVERY UPDATE: This item is currently available within the estimated delivery times below, with no delays. Our delivery times are slower than normal due to unprecedented demand.
Delivery is normally between 5 and 7 weeks after order for unpainted garden sheds.
Delivery is normally between 5 and 7 weeks after order for painted finish garden sheds.
Our prices for garden sheds include all delivery charges - unlike others we do not add delivery charges during the checkout process.
SPECIALIST DELIVERY SERVICE: These garden sheds are normally delivered by the fitters in dedicated vehicles. This ensures less damage and also there is no delay between delivery and fitting.
Ordering/Payment
All prices for these garden sheds include VAT.
Pay only 30% deposit when you order this garden shed by phone or online.
ORDER ONLINE: You can pay with a debit or credit card. We also accept password protected online payments using Verified by VISA or Mastercard SecureCode. You can pay in full or pay a deposit only. You can pay a minimum 30% deposit with order or pay a bigger deposit if you prefer.
METHODS OF PAYMENT: We accept most major credit cards and debit cards including VISA, MasterCard, VISA Debit and MasterCard Debit. We also accept secure online payments using Verified by VISA or MasterCard SecureCode. We do not accept American Express or Diners Club cards at present.
SCHOOLS, COUNCILS AND BUSINESSES: We supply many schools, local councils and businesses both large and small. The prices and terms are the same so you can order online if you wish. If you want to pay by BACS transfer or company cheque please email us.
Installation
All prices include FREE INSTALLATION by specialist trained staff.
Your garden shed will be delivered and installed on the same day by prior appointment with you.
FREE INSTALLATION: This garden shed includes free installation. Because every building is fitted free they are better made than other garden sheds. Everything possible is done to simplify the installation and minimize problems on site. For example, the doors are factory fitted complete with locks and handles. The result is better quality garden sheds which are fitted quickly with fewer complications.
Features and Accessories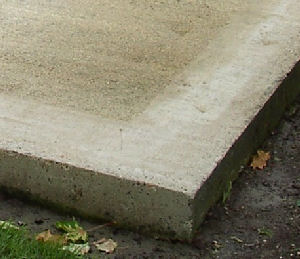 Shed base preparation and other information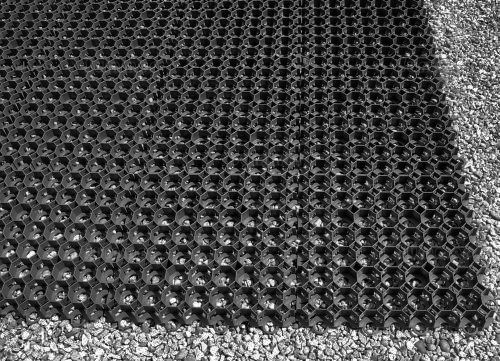 SHEDS - Base for Timber Floor - Eco-grid base, 200 tonnes per m2, fully paved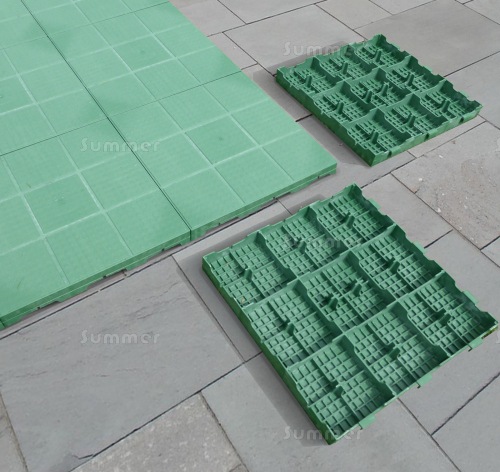 SHEDS - Base for Timber Floor - Eco-paving base, fully paved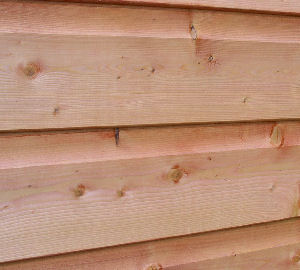 Close up view of cladding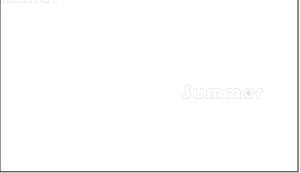 Paint finish - main colour options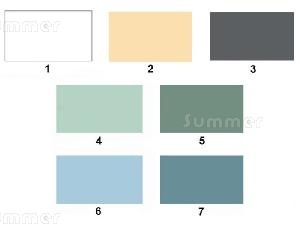 Paint finish - Full colour chart