01603 721590
Page Generated:
7 Jun, 2023 13:12:05
Cylinder Mood Light 123 - Solar Powered or USB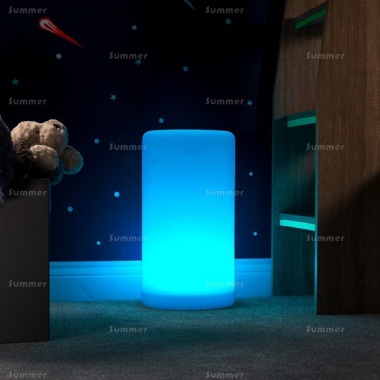 Summary:
This cylinder shaped mood light is suitable for indoor or outdoor use and provides an attractive way to illuminate your home or garden. A number of colours are available including red, green, light blue, medium blue, purple, pink, bright white and warm white. The light can be set to one colour or it can cycle between them. The outer casing is a tough PE plastic which means the light can double up as a small table or as a seat for children. It is also IP67 waterproofing rating for added durability. A stake mount is supplied for lawns, flowerbeds or planters and is simple to install with no mains wiring required. If outside, during the day a hidden integral solar panel converts daylight into electricity and recharges the high quality Lithium Ion battery. The overall size is approximately 450mm (1'6") high with a 250mm (0'10") diameter.
Another feature is indoor or outdoor mode. In indoor mode the cylinder light will operate much like a normal mains powered light and will turn on and off using a switch. Unlike outdoor mode, the light will work in lit conditions in indoor mode and there is no timer to turn them off automatically. In outdoor mode the cylinder light will turn on automatically after dark and turn off 7 hours later which conserves charge for subsequent evenings.
A 1.5m (4'11") USB charging cable is included, allowing charging via USB or by the internal solar panel. A full USB charge takes just a few hours and will provide around 50 hours of illumination. Running time depends on the exposure of the panel to the sun or charge time using the included USB cable. Solar charge varies with the seasons. Longer summer days provide the best charge. The light should work for approximately 7 nights from a full USB charge without any help from the sun so a reasonably well-positioned light may only need USB charging every 10-14 days in winter and only occasional USB charging during spring and autumn. USB charging may not be necessary at all during summer. Please note that the bright white and warm white colours use more power than the other colours so runtimes in these two colour modes will be reduced.
The prices INCLUDE DELIVERY within 1-2 weeks. Unlike others we do not add delivery charges at the checkout. Everything you need for assembly is supplied including instructions and all necessary fixings.
| Option | Price |
| --- | --- |
| Solar or USB Powered Mood Light | £59 |
Delivery
Delivery is normally within 1-2 weeks after order
Delivery is available to any address in the UK, except the Channel Islands
Mainland delivery throughout England, Scotland and Wales.
Offshore delivery to Northern Ireland, the Scottish Isles, the Isle of Man, the Isle of Wight and the Scilly Isles.
We are currently unable to deliver to the Channel Islands or the Republic of Ireland.
We always have a large stock of this item available for immediate despatch.
Our prices include all delivery charges - unlike others we do not add delivery charges during the checkout process.
PERFORMANCE DATA: Average 5 days before dispatch, 91.23% delivered within 3 days of dispatch, 100.0% delivered within 10 days, 0.13% reported damaged. We check the performance of our carriers regularly and publish the results. These small and lightweight parcels are hardly ever lost or damaged but the delivery period is a few days longer. We prefer a slower service which is more reliable for these smaller products, which are easily lost by most carriers.
Ordering/Payment
ORDER ONLINE: You can pay with a debit or credit card. We also accept password protected online payments using Verified by VISA or Mastercard SecureCode.
METHODS OF PAYMENT: We accept most major credit cards and debit cards including VISA, MasterCard, VISA Debit and MasterCard Debit. We also accept secure online payments using Verified by VISA or MasterCard SecureCode. We do not accept American Express or Diners Club cards at present.
SCHOOLS, COUNCILS AND BUSINESSES: We supply many schools, local councils and businesses both large and small. The prices and terms are the same so you can order online if you wish. If you want to pay by BACS transfer or company cheque please email us.