01603 721590
Delivery postcode is
NR26
Page Generated:
7 Jun, 2023 13:53:58
Log Store 264 - Fully Assembled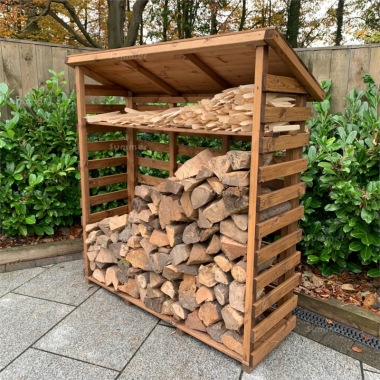 Summary:
The overall size of this log store is 2'2" deep and 5'5" wide (0.66m x 1.66m). The overall height is 5'6" (1.67m). The open fronted design allows efficient stacking of firewood logs. A shelf is included offering a tidy and organised way to store logs. This freestanding logstore features timber slats on three sides including the rear. Other features include a timber slatted floor. This log store is delivered and fully assembled on site on the same day.
Prices fixed until Wednesday 7th June.
The prices INCLUDE DELIVERY and FREE INSTALLATION.
| Option | Price |
| --- | --- |
| Scandinavian Redwood | £259 |
Specifications
Free same day assembly
All timber used in the construction of this furniture originates from sustainable forests in Northern Europe
Scandinavian redwood
Immersion treatment in oil-based wood preservative as standard
Freestanding design with slatted walls on three sides
Timber slatted floor
1 slatted wooden storage shelf included
No windows
Overall width 5'5" (1660mm)
Overall depth 2'2" (660mm)
Overall height 5'6" (1670mm)
FREE SAME DAY ASSEMBLY - THE BENEFITS: Our free in house installation service is not just convenient, it is also your assurance of better quality furniture. This is because any item which includes free installation is invariably better made using quality components. Over time regular feedback from fitters ensures that design faults and weaknesses have been rectified. Same day installation is convenient for you and cost effective because it saves travelling costs. The fitters will deliver your product and then install it, all at the same time. There is also no waste to dispose of. The furniture will be ready for use once the installers have left site.
SCANDINAVIAN REDWOOD OR WHITEWOOD: The most widely used timber in the UK for years, Scandinavian Redwood and Whitewood grow in the well managed forests of Scandinavia and the coldest parts of Northern Europe. The cold climate ensures slow growth. The growth rings are much closer together than faster growing trees from warmer climates. As a result the timber is heavy and durable with a close grain pattern. The wood is seasoned and kiln dried to achieve the correct moisture content before it is machined. Redwood and Whitewood are so similar in appearance and performance that it is difficult to tell the difference. Both are classified as slightly durable and treatment is required for outside use. The forests of Scandinavia and Northern Europe have been responsibly managed on a sustainable basis for centuries so Scandinavian Redwood or Whitewood is an enviromentally friendly choice.
SIZES - DEPTH AND WIDTH: The sizes are listed alongside the price. The first dimension listed is the depth and the second dimension is the width. The depth refers to the sloping wall. The sizes listed are the external wall sizes. These sizes do not include the roof overhang. Many other suppliers quote the overall roof size which is much larger.
Delivery
DELIVERY UPDATE: This item is currently available within the estimated delivery times below, with no delays. Our delivery times are slower than normal due to unprecedented demand.
Delivery is normally between 1 and 3 weeks after order.
Our garden shed prices include all delivery charges - unlike others we do not add delivery charges during the checkout process.
Ordering/Payment
All garden shed prices include VAT.
ORDER ONLINE: You can pay with a debit or credit card. We also accept password protected online payments using Verified by VISA or Mastercard SecureCode.
METHODS OF PAYMENT: We accept most major credit cards and debit cards including VISA, MasterCard, VISA Debit and MasterCard Debit. We also accept secure online payments using Verified by VISA or MasterCard SecureCode. We do not accept American Express or Diners Club cards at present.
SCHOOLS, COUNCILS AND BUSINESSES: We supply many schools, local councils and businesses both large and small. The prices and terms are the same so you can order online if you wish. If you want to pay by BACS transfer or company cheque please email us.
Installation
All prices include FREE INSTALLATION by specialist trained staff.
Your garden shed will be delivered and installed on the same day by prior appointment with you.
Features and Accessories