Not your postcode?
Setting the first half of your postcode shows you the full choice in your area.
In a moment you may be asked to share your location. Please allow this so that we can show you the full choice in your area (inclusive of delivery charges). You may also set your location manually using the button above.

Click this messge to hide it.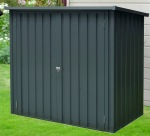 View Sheds and Storage Buildings
What size shed do I need?

The space will always be used, so buy the biggest shed you can afford provided that it fits comfortably in the space available. There are no precise guidelines regarding the size. Often the size of the shed is dictated by the space available. At Summer Garden Buildings we offer a wide range of sizes to suit every space. If you are replacing an existing shed, you should consider whether to have the same size again or perhaps larger. You should also consider whether your shed will be used for storage only or for workshop use. If you need workshop space you may consider increased headroom or an opening window. A popular size for a small garden shed is 6'x4' and the most popular size for a storage shed is 8'x6'. Two popular workshop sizes are 8'x10' and 10' x 12'.

Where should I locate my garden shed?

Ideally your garden shed should have a clear space at least 18" wide on all sides, if possible. This ensures easy access for both installation and future maintenance. In reality this is often not practical and at many sites it is not needed. A reduced clearance is often possible on one or two sides. If the space around your shed is restricted remember to allow for any roof overhang. You should also cut back or remove any nearby shrubs and trees. Remember to allow for future growth. We recommend a sheltered position which is not exposed.

What type of base is suitable for my shed?

All sheds need a substantial base. The base should be solid, square, flat and level to ensure the stability of your shed. Paving slabs or concrete are ideal. A solid concrete base is more permanent and normally more expensive but it provides an excellent base especially for a larger shed. Paving slabs are more practical and cost effective, especially for a smaller shed at the far end of the garden. The base should be no smaller than the floor size of the new shed and no more than a few inches larger.

How can I get rid of my old shed?

The easiest way to remove your existing shed is to sell it. There's a very healthy trade in old second hand sheds. You probably won't earn much money from the sale, but you'll get rid of it for nothing! The usual arrangement is to sell the old shed for the buyer to dismantle at a time which is convenient for you. Ideally you should insist on full payment and immediate removal. If you settle for a deposit, perhaps with removal at a later date, make sure it's a significant deposit. You need to be confident that the buyer will return when agreed! You can normally place a classified advertisement in the local newspaper for a few pounds by phone or online, with payment by credit card. Typical draft advertisement: "Shed 8' x 6' good condition, buyer to dismantle, £50 for quick sale. Phone 01234 567890"

What access is required to deliver my shed?

If your order includes installation the shed will be delivered and installed on the same day by prior appointment with you. A clear access route is required from the lorry to the prepared base, with no access restrictions. The sections are often large flat panels which may be as long as the building. Possible restrictions include archways, narrow passages, sharp corners and flights of steps. It is not normally possible to lift large panels over fences and walls. Access through the house may be possible with advance notice. If required larger panels can be made in smaller sections for a small surcharge. Please advise us if there are any access restrictions at the site.

Is my shed suitable for DIY assembly?

Many of our sheds include optional or free same day installation but many other sheds are suitable for DIY assembly. Assembly is a straightforward and satisfying project for any DIY enthusiast. Even large sheds can be installed with only basic tools, such as a hammer, a screwdriver, a power drill, a spirit level, an adjustable spanner, a knife, a stepladder and safety goggles. Particular care is required when handling glass and good quality gloves should be worn at all times. You should not attempt to lift heavy sections without a helping pair of hands. Remember that extra time spent preparing a good base is normally repaid with time saved later on during the installation.

How should I maintain my wooden shed?

Unless your wooden shed is made from cedar or pressure treated timber it will require regular treatment. The external timber should be treated with a good quality wood stain every year. This will prolong the life of your shed. All major wood stain manufacturers offer suitable products in a choice of colours, available from good hardware shops. At Summer Garden Buildings we offer a range of microporous wood preservatives in a choice of colours. Although normally offered with a new building only we are always happy to supply any of our microporous preservatives separately at any time to an existing customer who purchased one of our sheds. It is not essential to treat cedar which is a naturally resilient timber and does not deteriorate appreciably even under severe climatic changes. If untreated cedar will gradually fade to a silvery grey. It is also not essential to treat pressure treated timber which if untreated will gradually fade to a silvery grey. We also recommend that you regularly oil the door and window hinges as required to ensure continued smooth operation.

Can I insulate my shed?

All Summer sheds can be easily insulated. Inexpensive polystyrene or fibreglass insulation can be easily fitted between the framing members. The insulation is retained by cross battens which also support the lining boards. Wood effect veneered wallboard is a popular lining but plywood and tongued and grooved cladding are also suitable.

Can I have electricity in my garden shed?

Although providing an electricity supply to a garden shed is normally a straightforward task, for safety reasons we recommend that you consult an approved electrician first. Since January 1st 2005 all electrical work must be completed in accordance with IEE wiring regulations and BS 7671. Notifiable work must be either notified directly to the local building control department or completed by an operator who is approved under the Part P Electrical Competent Person Scheme.

Is planning permission required for my shed?

The majority of garden sheds do not require planning permission. However, permission is required for any shed which covers over half the garden, which is not for domestic use or which is over 3 metres high with a pent roof or 4 metres high with an apex roof. Larger sheds which are within 2 metres of a boundary and over 2.5m high (8'2") require planning permission. Some larger apex roof sheds may be over 2.5m high. Planning permission may also be required for any shed which is nearer to a public highway than the original dwelling. For planning purposes a public highway includes any road or footpath with a public right of way. If you live in a Conservation Area or a Listed Building permission may be required for any shed over 10 cubic metres. This brief summary is not intended to be a comprehensive guide. Contact us for further advice or contact your local planning department. Please note that planning regulations apply to any building whether temporary or permanent including garden sheds.

Is building regulations approval required for my shed?

The majority of garden sheds do not require approval under the building regulations. However, approval is required for any shed with an internal floor area of more than 30 square metres. Please note that the building regulations apply to any building in excess of 30 square metres whether temporary or permanent including garden sheds.

What is western red cedar?

We offer a selection of quality cedar sheds constructed with Western Red Cedar, an attractive timber with an unrivalled reputation for durability. It is ideal for use in the construction of sheds and other garden buildings. The superior qualities of Western Red Cedar are summed up in this extract from the grading rules published by The Pacific Lumber Inspection Bureau:
"The largest and finest of the cedars produced anywhere in the world, the Western red cedar is famed for its extraordinary durability and resistance to decay. Western red cedar is a distinct species, possessing all the desirable qualities of the other cedars, and additional advantages besides. It can be finished to a smooth, silky finish; it is free from pitch, it takes and holds stains and paints excellently, and has superior glueing properties. Its colour is extremely attractive, varying from almost pure white of the narrow sapwood to the light straw shade of dark reddish-brown of the heartwood. The wood of Western red cedar has a vey low coefficient of expansion, so that it does not shrink, swell or warp excessively, even when subjected to changing degrees of temperature and moisture. It has prime insulating qualities and its pleasing aromatic odour is repellent to moths, insects and vermin. The wood is saturated to every fibre with a natural preservative oil which renders it virtually immune to decay and gives it extreme durability without artificial preservative treatment. It is not necessary to paint cedar to preserve its surface, as it does not deteriorate appreciably even under severe climatic changes."

What is pressure treatment?

Pressure treatment is a lifetime preservative treatment. We offer pressure treated sheds and other garden buildings. The preservative is forced into the timber under pressure and penetrates below the surface, whereas all other treatments apply a coat of stain to the surface of the timber only. Pressure treatment is almost colourless except for a slight green tint caused by the copper content in the preservative. No further treatment is ever needed but if you want a coloured finish you can paint over pressure treated timber with normal wood preservative in any colour.

What is shiplap cladding?

Shiplap is the traditional and ever popular cladding profile for use in sheds and other garden buildings. Shiplap features smooth planed and fully interlocking tongued and grooved boarding. The design ensures that rainwater drains quickly and the timber dries quickly. This helps to ensure a longer life for your shed. Our shiplap sheds feature properly tongued and grooved boarding which is stronger than the half lap shiplap or rebated shiplap used by many others.

What is loglap cladding?

Loglap is an increasingly popular cladding profile for use in sheds and other garden buildings. Loglap features smooth planed and fully interlocking tongued and grooved boarding with a rounded external log effect profile. The design ensures that rainwater drains quickly and the timber dries quickly. This helps to ensure a longer life for your shed. Our sheds feature properly tongued and grooved boarding which is stronger than the half lap loglap or rebated loglap used by many others.

What about shed security?

Cambridgeshire Constabulary asked Summer Garden Buildings to take part in their Community Safety Partnership. As part of this crime prevention initiative it was agreed that we would give free brochures about shed security to our customers. In addition, brochures were left inside our display sheds for the benefit of browsers. Their advice is reproduced word for word below:
Introduction: Garden sheds tend to be places where people store items which may not be used for some time or they may be used regularly to store bicycles but in either case the shed and property is often left insecure. The value of gardening equipment, garden furniture and cycles is usually considerably under estimated. Burglary of sheds and theft of garden equipment is on the increase, so please try to ensure that you do not become a victim. By taking positive preventative measures you can improve the security of your shed and garden.
What you can do: Do not make yourself an easy target by leaving garden equipment lying around and by leaving your shed insecure.
Locks: Fit a good quality lock to the shed door. The fittings should be bolted through the door and reinforced at the back with a steel plate. The hasp should have concealed screws. The padlock should be hardened steel of the close shackle type.
Windows: Once the door has been secured don't forget the window. Fit an integral mesh grille or curtains to stop opportunist thieves from looking in.
Door hinges: Most shed door hinges are exposed and can easily be removed by taking out the screws. Replace ordinary screws with non-return screws or coach bolts, or for even better security use strap hinges secured by coach bolts.
Anchor points: Fit an anchor point to the shed floor using one way security screws. This will allow you to use a heavy duty security chain or cable to link items then secure with a quality padlock.
Marking Property: All of the property in your shed and for that matter your house should be marked with your postcode and house number, to make it identifiable as yours. This can be achieved in a number of ways, from engraving to paint pens. UV marker pens are cost effective and can be purchased from local stationary suppliers as well as from your local Community Safety Unit.
Lighting: Any lighting installed around your property should serve to reassure you and not to annoy your neighbours. Make sure that lights are properly adjusted to cover only your property. Dawn to dusk and PIR activated lights can be used to afford good levels of protection.
Perimeter protection: The importance of preventing prowlers accessing your garden is obvious. No-one wants to live with a back garden that resembles a high security compound with barbed wire and high fencing but your garden should be enclosed to make it secure. Fences and hedges should be maintained in good order. Make sure that any gates that give access to rear gardens are the same height as any adjacent fence or hedge and that they are fitted with a good quality lock to prevent any unauthorized access. Fence toppings can be fitted to avoid climbing over. Fit trellis work which is more fragile than the fence structure itself.
Planting: Growing dense or prickly plants along the fence, around drain pipes and under ground floor windows is an effective visual and physical barrier. They can slow down or deter unlawful entry and can add colour to your garden while improving your security.
Alarms: Battery powered alarms are available from DIY stores. These will emit a powerful audible alarm when the door is opened and can reduce the risk of burglary. An even better system is to fit a system that will sound in your house, thus alerting you that all is not well.
A final thought: Always remember that the tools stored inside your shed, including ladders etc., may be used by the criminal to break into your home or maybe even into your neighbour's house. This in itself is an excellent reason to ensure that they are not accessible to the thief. By adopting the simple measures outlined here you can reduce the risk of you becoming another victim of theft. Over 1000 sheds and garages were broken into in the last 12 months in the Peterborough area. Many of the victims were underinsured or held no insurance at all."
We offer a range of security sheds with small high level windows and other security features and a selection of sheds with no windows.
View our Shed Buyer's Guide. You may also like our Log Cabins or Summerhouses.
Click here to return to FREQUENTLY ASKED QUESTIONS.